Portada » PC » Adventure » Rayman Raving Rabbids 2 PC Game Download Free
Rayman Raving Rabbids 2 PC Game Download Free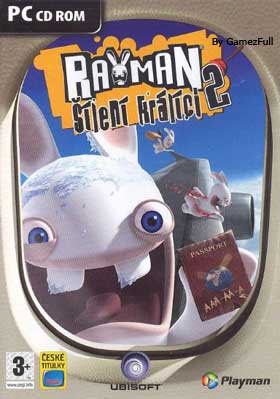 Those rambunctious rabbits are back and ready for world domination in this follow-up to 2006's madcap, mini-game abundant original.
The Rabbids now have a home base on Earth and plan on learning the idiosyncrasies of human behavior to more easily infiltrate our population. Once again Rayman vows to stop them, but he'll have to do it from inside their odd organization by wearing a bunny suit. Raving Rabbids 2 introduces 60 all-new mini-games that poke fun at pop culture.
To unlock all the mini-games, players must advance through a campaign spanning five regions: U.S., Europe, Asia, South America, and the Tropics. A new party mode lets up to four players battle each other for high scores, with several games supporting either cooperative or simultaneous action on the same screen. Another key feature is the ability to customize Rayman and the Rabbids with a wide assortment of skins, hats, clothes, and other accessories.
Title: Rayman Raving Rabbids 2 MULTI5
Developer: Ubisoft, Ubisoft Paris
Genre: Action
Release date: 13 de noviembre de 2007
Language: English |

Dubbing / Audio: X
Size: 479MB (ISO)

Minimum Requirements:
OS: Windows XP
Processor: 1 GHz Pentium 4 o AMD Athlon (it is recommended 2.5 GHz or faster)
RAM: 256 GB (it is recommendedn 512 GB)
Graphics: Video card 64 MB compatible with DirectX 8.1 (it is recommended 128 MB) (ver lista compatible *)
∇
Instructions on how to install:
1- Unzip or Extract
2- Mount the (Rayman Raving Rabbids 2.iso) using Daemon Tools on Windows XP and 7.

3- Install / Setup.exe

4- When finished, leave your comment below to know if the game is
working without any problem

IMPORTANT NOTE:
Create a shortcut on the desktop of the «Autorun» file from the dir where the game was installed:
C:\Program Files (x86)\Ubisoft\Rayman Raving Rabbids 2
⊥
Game one sigle link / Download 481MB

×
Rules: Abuse, spam, ask password is prohibited. If you need help enter here at Ayuda.
Comments: Your comment disappears and is pending in our system.